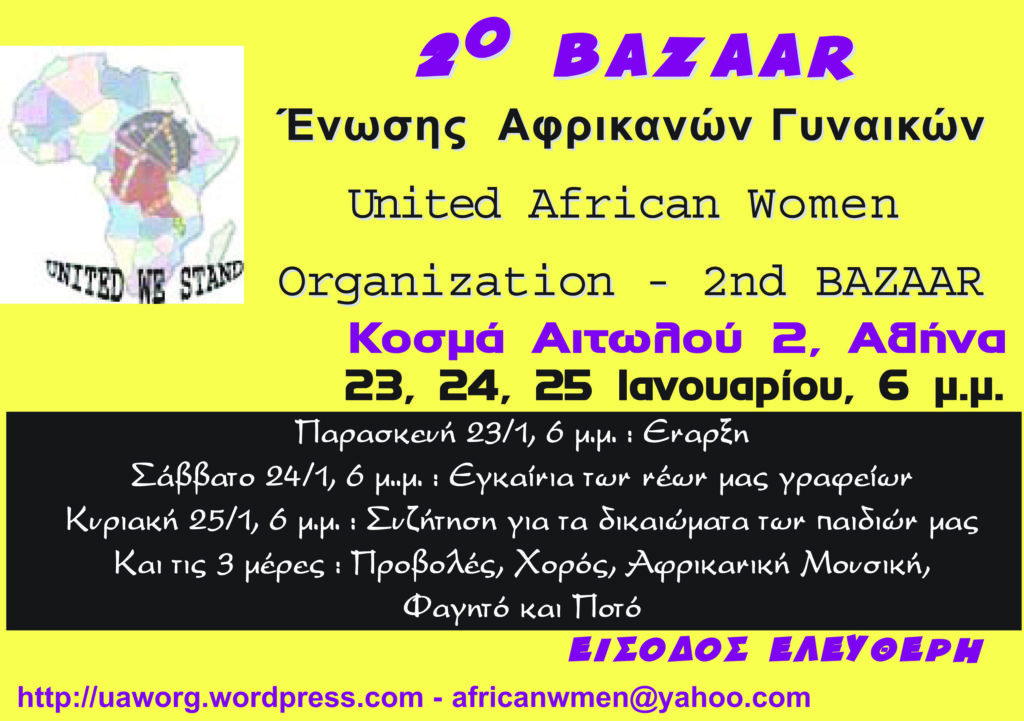 Friday, 23/ 1/ 09 (office will be open from 4:00pm)
7:00pm : Presenter – Miss. Kadija Sankoh
7:10pm : Welcome Speech by Mrs. Lauretta Macauley (Founder of the
Organization) and Mrs. Dimitra Malliou (Greek Forum of Migrants)
7:25pm : Brief History of the Organization by Miss Sandra Williams
7:35pm : Projects Plans & Objectives of the Organization by Mrs. Click
7:45pm : Projector show on organization's activities
8:00pm : Music & Dance
8:30pm : Food & Drinks, visiting time
Saturday, 24/ 1/ 09 (office will be open from 4:00pm)
7:00pm : Prayer and Blessing of office
7:20pm : Cutting of Ribbon by Mrs. Liza Javara (Network for Political and Social Rights of Refugees and Migrants) & entering the office
7:45pm : Children's cultural dance
8:00pm : Uganda women's cultural dance
8:30pm : Cutting of New Year Pita
8:45pm : Gifts for children (from 3 – 12yrs)
9:00pm : Music, Food, Dance etc.
Sunday, 25/ 1/ 09 (office will be open from 5:00pm)
7:00pm : Discussion on the "second generation"
7:20pm : African dance by young Irene
7:40pm : Round table discussion on the "second generation" with the
participation of other organizations and collectivities (Asante,
"No to Racism from the Cradle" campaign)
8:00pm : Projector show, African's music videos
9:00pm : Dance, Chats, Food & Drink.
The office will remain open till Saturday 31/ 1/ 09 from 5:00pm – 9:00pm.
Please come and enjoy yourself with African flavors and motions. Your presence means a lot to the Organization . Thank you