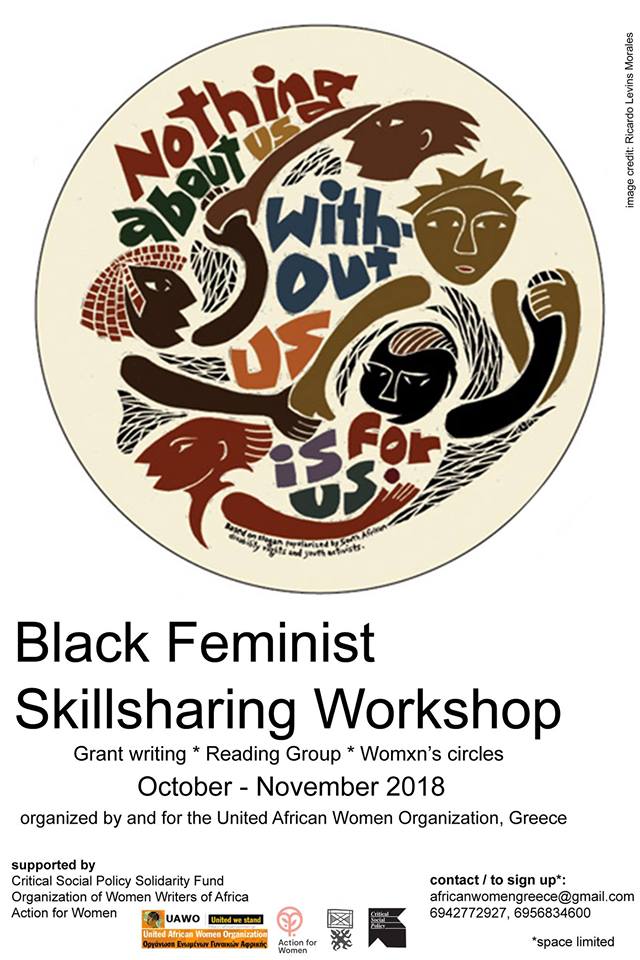 INVITATION
We all have knowledge!
We all have talents and skills to explore!
We are all stronger when we come together!
The United African Women Organization (UAWO)
is happy to invite you to
UAWO'S
1st Black Feminist Skillsharing Workshop:
Grant Writing * Reading Group * Women's Circles
——————- Starting end of September! ——————-
We invite you to join us for our workshop in which we will:
– Share experiences and current problems, and find ways to solve them together
– Practice skills of writing and reading through weekly workshops
– Learn how to write/submit applications for ideas we want to collectively work on together
– Learn about the experiences of black women, activists and freedom fighters who can empower us today in our work
– Come in conversation with methods of Black Feminism with visiting guests coming from abroad
We look forward to all meet together
and learn from each other's
experiences, knowledges, passions and skills!
For more information/to sign up* and/or express interest contact:
africanwomengreece@gmail.com
6942772927, 6956834600
*Space limited
The Workshop is supported by:
Critical Social Policy Solidarity Fund
Organization of Women Writers of Africa
Action for Women